Pam Card of Surefire Online Marketing is one of my colleagues, power partners and frequent collaborators.
She had designed and written a first draft of her website. But she needed someone to polish the content using a friendly, approachable voice. As an accomplished copywriting ventriloquist, I was able to revise her copy and am thrilled to say that her site is now live.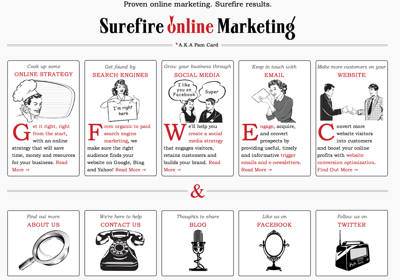 Her testimonial is the icing on the cake for this terrific-looking retro project featuring Pam's expertise in strategic online marketing, including several amazing case studies of her successes globally: "Working with Gil is great. He is creative, motivated and professional. I couldn't have finished my website without his ingenious wordsmithing. Thank you, Gil! "
If you need "Proven online marketing with surefire results", I highly recommend that you get in touch with Pam.