Angela Warren is a highly respected San Francisco Immigration Attorney who needed a professional, international site to best represent her business and her clientele, which includes Fortune 500 companies, the largest international corporations, start-ups, and everyone from America's Cup employees to visiting professors to sushi chefs.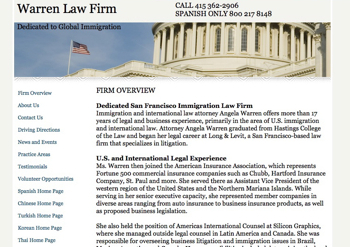 Here's what her old site looked like. Perfectly functional, but not necessarily international. Bradley Charbonneau of Likoma worked with WordPress with another clean, mean StudioPress theme.
Lauren Deane Evans of Good Looking Ideas was the art director who guided every design decision. Lauren added an extra touch of style and a global look by choosing stock images that looked friendly but not stock, yet still professional.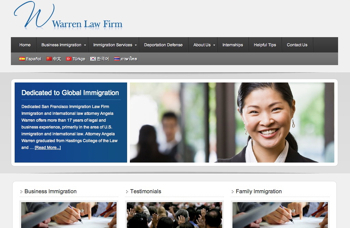 And I wrote/edited the site's copy to produce another great looking site for Team Likoma. Check out the new site for San Francisco's own San Francisco Immigration Attorney, Warren Law Firm.